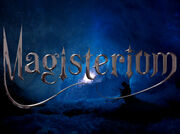 "
Think you know magic? Think again.
The Magisterium awaits...
During your time at the Magisterium, there will be five trials to complete — one for each school year. They will test your magical skill, your endurance and your ability to handle dark and dangerous situations.
It begins with the Iron Trial . . .
"
The Magisterium is a five-book middle-grade series of fantasy novels co-written by Cassandra Clare and Holly Black.
The series follows the life and adventures of young mage apprentice and Magisterium student Callum Hunt from age twelve to seventeen.
Books
Each installment corresponds with a Magisterium year and is in order: Iron, Cooper, Bronze, Silver and Gold.
References
Ad blocker interference detected!
Wikia is a free-to-use site that makes money from advertising. We have a modified experience for viewers using ad blockers

Wikia is not accessible if you've made further modifications. Remove the custom ad blocker rule(s) and the page will load as expected.